Alright WR, get to this show at Kitchener City Hall today (Sunday!) and buy some cool alternate creations. My peeps and I hit Altekrea yesterday and you definitely don't want to miss it. Such cool things as creator Laura Renwick's great horned beast are just waiting to go home with you.
A few more pics…
Altekrea, itself created by…
Miroki Tong (above) was written up in The Record by Anam Latif who you should all be following as she covers some of the best corners of our local make-o-sphere.
As we headed indoors, Calder asked "Do all the cool things happen at Kitchener City Hall?" Me: well, yes quite a few of them. Go Kitchener!
I figured I'd see familiar faces, and sure enough walked right in to friends Jim Tigwell and Kayleigh Willey on stage.
And while you're at KCH, be sure to see Michelle Purchase's amazing work just around the corner in the Rotunda Gallery. I am a huge fan…
of Michelle's work and never miss a chance to see it. Most recently I caught her haunting prints at the Tri-City Stopgap art show and always stop by her digs in Globe Studios. Hey, be sure to hit Globe's art show and open house coming this Fri/Sat.
I've not seen Michelle do pieces as large as the ones at the Rotunda, so definitely check it out.
Serendipitously, we were just in time to drop in on a "What To Draw" class by cartoonist Scott Chantler. Calder: you mean *the* Scott Chantler? My favourite cartoonist? I didn't know he lived here!
There were some cool analogs to photography in Scott's talk, particularly in the use of the frame. Good on Altekrea for connecting this talk, and thanks!
Lots of stuff to see at KCH.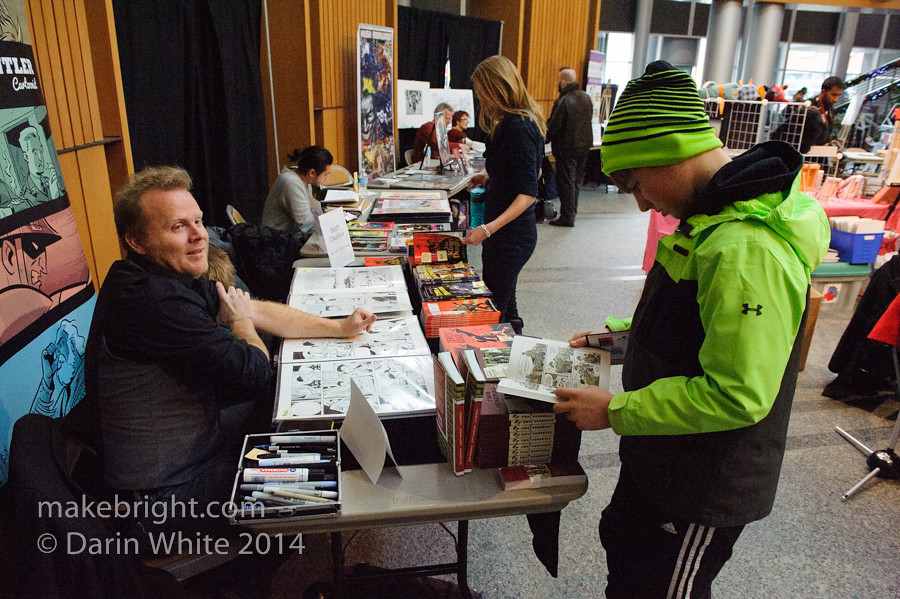 Scott has shown up on makebright as far back as 2011 at Ignite Waterloo #5 and then later TEDxWaterloo. Here Calder is…
picking out a couple of Scott's books to take home.
Scott and his son Mason.
Miroki (left) stretched to kick off the Altekrea pitch competition that awarded a bag of cash to an artist with a winning pitch. Awesome… this show has everything, including some welcome mic help from our favourite smith Ryan Consell.
Hockey practice called, so we had to boot it, but not before snagging…
some Carmen Peters prints for Arden.
Ok, you know what to do. Get to Altekrea today. The show runs until 6pm, but don't delay. Check the schedule here.
Free parking, free entry, cool art. I'm teeing it up for you, now all you need to do is get off the sofa and engage.
DW