Montreal artist and friend, Pascal Dufaux was back in WR on Sunday for the opening of Archive Fever at The Canadian Clay & Glass Gallery (C2G2), which includes one of Pascal's fantastic video installations. His work connects with the maker/artist/photographer in me, so despite having been out on a shoot all weekend, I could not decline his invite.
Archive Fever, curated by Krista Blake, involves interactive participation by you(!), offering the opportunity to explore an archive populated with a variety of personal items collected from famous and otherwise-notable people. Physicists, writers, musicians, artists, and more have contributed various bits from their lives to be housed in a library of sorts and examined by visitors.
The TL;DR: this is a different and cool show. It goes toward active participation in art rather than the passive consumption that is so familiar. We the people can activate (to use Krista's great word) this gallery. It is chock full of potential in the centre of our city. It is surrounded by Waterloo Park, The Perimeter Institute, new condos, and is steps away from a soon-to-be light rail line. We can do so much with this place. Get there.
More photos…
Krista Blake, curator. Nice work on the show.
Ah, Pascal's machine. I believe this is Machine #2 from his piece The Cosmos In Which We Live.
This is the "library". You check out boxes with the librarian and then take the box into the exhibit to examine…
just like Gordon Hatt, CAFKA Exec Director.
Proper white glove affair.
Video projection from Pascal's rig. Through the magic of the delay between capture and projection, I'm able to photograph a projection of myself photographing Gordon. Super-meta.
I'm starting to better appreciate this building. I'm not a student of architecture, so I can only express this as a layman. The combination of curved surfaces with straight lines, surprise doors/openings, pockets of deep darks and very bright lights is engaging and makes my mental model of the space much bigger than the physical footprint of the space.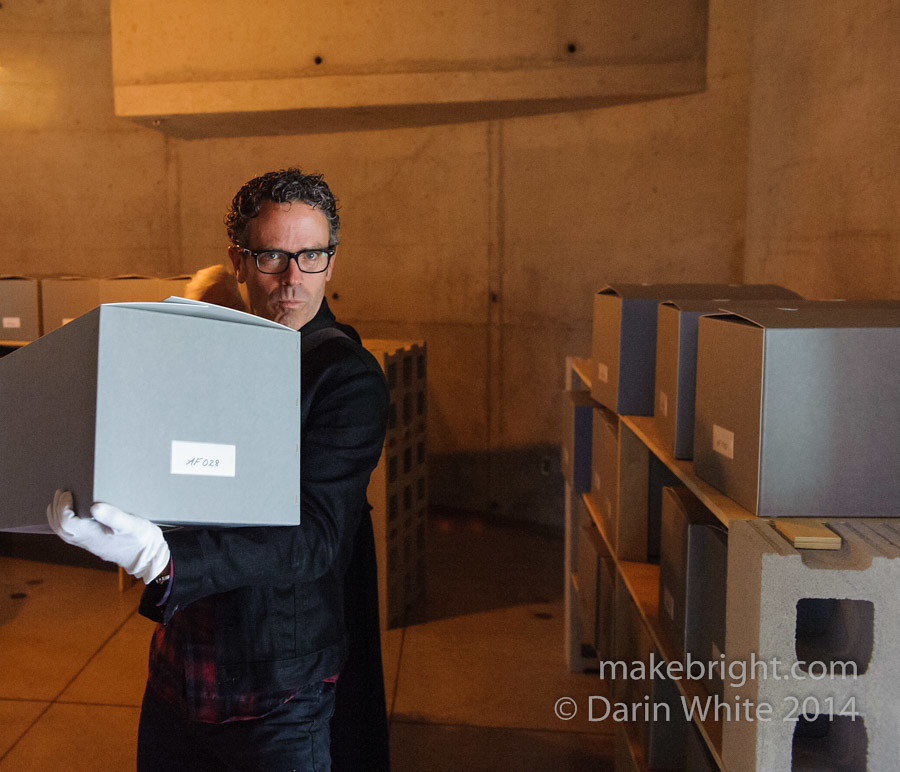 The Jazz Room chief, Mr. Stephen Preece never takes a bad photo. Here, he vogues with one of the archive boxes.
I believe these are Krista's parents getting a shot with her by Wilhelm "Willy" Nassau.
So great to meet Willy. He told me he was 92 years old and had been doing a lot of shooting for the gallery. Earlier in life, he worked for the CBC and Wilfrid Laurier University. His business card says "Consultant for Media Technology and Audio Visual Museums Display". He is a lifetime member of The Society of Motion Pictures and Television Engineers, a member of The Canadian Society of Cinematographers, and a charter member of the Photographic Historical Society of Canada. We joked about how much better it is to be behind the camera rather than in front of it.
This reception space in the gallery would be a great place for 3rdThur photo review, non?
Meta, of Krista's mom.
Pavarotti and Preece. Oh, the gifts a patient photographer receives…
An element of Pascal's that is so powerful for me is that all the beautiful guts are exposed. The gears and belts and wires. And you may assume you understand it by just looking at the mechanisms. You may say "Well, there's the camera and it rotates like this on that arm and there's a reflector there and the lights are like this…" But then you see the hypnotically slow and deliberate movements and then the glitched/delayed/mashed-up output projected and it jolts you, surprises you. And you start playing with the machine, participating. "What if I stand here? What if I move around the piece and try to stay in the camera's frame?" Again: interactive art. You complete the piece. We are so fortunate to again have Pascal's work in our community.
The man himself, M. Pascal Dufaux. Read my other posts on his awesome work or go directly to his site. Pascal told me he was very intrigued by Krista's concept for the show and that really motivated him to return to Waterloo Region.
Chérie Fawcett and her partner checked out the archives.
Doing my best here to frame some archive examiners with Machine #2
and the artist and projection.
So great all these people contributed. Remote participation!
Pascal and Krista.
Authorized purse-rummaging.
Things were hopping in the archive storage area.
The archive librarian eyed me suspiciously, but I was free to go.
Alright WR, you know what to do.
Show…
up.
This is Waterloo.
DW